Tent & Tarp
ORIGAMI TARP 4.5 x 3 (Reservation required)
Price
$171.90

Item #
m457335072
Stock
15in stock (The item will be delivered at next day)

Shipping fee to United States.

Please select a country
$34.38
Description
Long awaited Bushcraft Original Inc.square tarp has finally debuted.
Size is about 4.5M x 3M which is just the right size to use and more relaxed than a 3.3M tarp which is often used for solo camps.
Features of Origami Tarp 4.5 x 3
As the naming indicates,the tarp allows one to simulate set-up an origami like set-up.
(Origami is a traditional Japanese art of folding paper into different designs)
PU Coating 15D ripstop nylon.
Water pressure resistance: 3000mm.
Total number of loops: 35
Toggle friction point: 13
Item weight: 1000g
Aluminum pegs: 4
Rope work with manual.
Set of 10 Origami sheets for simulation purposes are included in the package.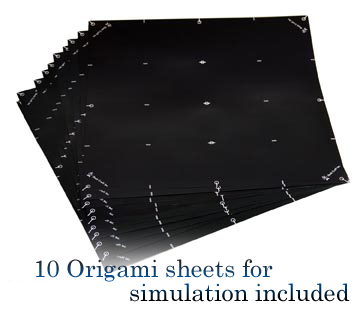 Set of 10 exclusive origami for simulation.
Due to this flexibility,origami tarp adapts and corresponds to different situations and therefore very convenient.
Since it is made of stretchy nylon,it can absorb topographical strains.It is characterized by a gentle yet tight figure.
The PU coating is resistant to ultra violet ray degradation, it is a thin 15D fabric that can quickly be dried. It is lightweight, portable, not easily hydrolyzable and easy to maintain.
Bush Craft Inc.'s "Toggle Friction Point" is a mechanism devised from both general and professional camper's experiences.
The tip of a regular tarp pole can be inserted into the metal ring and is easy to set up in a family camp in an open camp ground, and of course a peg can be inserted through as well.
Furthermore, the loop of the toggle friction that is ahead of it is designed for a professional who frequently uses a square tarp, so that it is possible to tie a friction knot in a ridge line with a single twig.
Of course as a beginner you can easily make use of toggle friction by challenging yourself by setting up the tarp and making use of the ridgeline once you buy the tarp.
Bushcraft Inc.'s products are unconsciously and steadily helping to improve the convenience of professional level bush craft enthusiasts.
Future of professional bushcraft enthusiasts demands upping certain skills, knowledge and having courage.
Having Bushcraft products and knowledge is definitely going to attract the attention of regular campers.
Review on this item
No review on this item...
Customers who purchased this item also purchased
$39.03
$23.23
$12.08